Fiber Optic Cable
A new light in the modern world which might some day replace copper wire for signal transmission.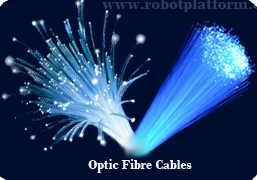 Fiber Optic cable uses thin flexible fibers (imagine thin long glass strands) to transmit light from one end to another as opposed to other cables which transmit electrical signals eliminating the problem of electrical interference. This also makes it ideal to transmit signals over much longer distances. Fiber optics principle is more interesting than any of the previous cables.  The insulated glass strands act as perfect mirrors. When light hits one end of the cable, these mirrors reflect light within and then reach the other end of the cable. By switching off and on a laser light once, one bit of information is guided and sent from one end to another.
There are three types of Fiber Optic Cables in use:
Single mode Cable: This is considered the best type of fiber optic cable, made of minute single strand of glass fiber and transmits data to longer distances.
Multi mode Fiber: This Cable is again made of glass but a bit bigger than Single mode cable. They usually have two glass strands and light is dispersed into numerous paths while transmission. However they are not too well for long runs and end up in incomplete data transmission when the distance is long.
Plastic Fiber: Plastic Fiber or Polymer Fiber Optic cables are made of polymer strands. With the advancement in Polymers, these have replaced glass in Optic Cables. However, due to their large diameter, they are ideal for data transmission within short distances.
Multi Conductor Cable:
This is a general variant made up of a group of insulated conductors. They are best used in control applications, but are not useful in transmitting signals.
This ends a brief tutorial about wires and cables.
Do you have anything to say?
Visit the Forum to discuss, learn and share anything related to robotics and electronics !!